Amazon vs. Flipkart: 5 facts To See Who's Winning
Let's talk about India's favorite tech battle of the moment.
Amazon vs. Flipkart
Every Indian in tech has an opinion but not a lot of numbers to back it up.
Let's fix that.
We have info for App Installs, Search Traffic, Complimentary Products and Funding. (all data from Google Play store. India is almost all Android.)
Let's see what the future holds:
1. What is the current battle status with Mobile Apps?
Flipkart has had a huge first-mover advantage: App installs.
Current "conservative" install estimates:
Flipkart: 57 million app installs* // Amazon: 37.43 million app installs*
*How we got the estimates
Flipkart: Announced 50 million app installs in March. App Annie estimated 1.72 million app installs by May 2016 (at the time Amazon Rank #15, Flipkart Rank #16). We took 1.72m per month and added it on to the 50m. The date we have last updated this is 8/8/2016.
Amazon: 20.15m estimated installs in October 2015. App Annie estimated 1.92m installs in May 2016 (at the time Amazon Rank #15, Flipkart Rank #16). We took the 1.92m per month and added it to the 20.15m. The date we have last updated this is 8/8/2016. This is SUPER conservative as the Amazon ranking has gone up to #8).
There is a HUGE "but":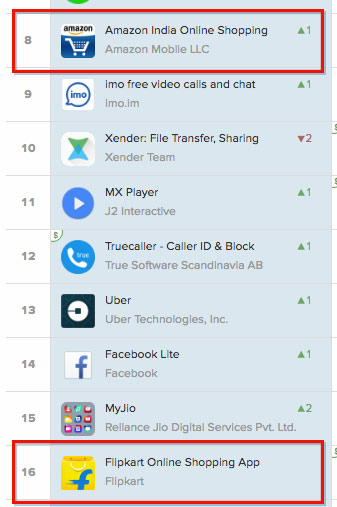 Amazon is now the #8 ranked app in the Google Play store and Flipkart is stuck at #16.
Amazon was enjoying +200,000 app installs per month compared to Flipkart in May 2016 according to App Annie.
But the ranks have changed. Amazon's rank has moved up seven spots and Flipkart has stayed the same.
Amazon has gotten twice as popular.
Estimating is hard since most app store numbers are private. We are going to say this bump is giving Amazon a now +400,000 app installs over Flipkart a day compared to May 2016.
What does this mean?
It will still take 4 years before Amazon will pass Flipkart in App Installs.
We believe this number is too conservative.
4 years is assuming Search Traffic, Marketing & complimentary products (think Prime & Instant Video) don't speed up Amazon installs. Which we believe it will.
Advantage: Amazon (because of their current app store ranking)
2. What about App Usage?
Flipkart is WAY ahead of Amazon on this.
By a mile.
According to App Annie data:
4.7% of Flipkart's users (app install base) open the app everyday
Only 2.7% of Amazon users do so daily
This means even if Amazon gets the same install base as Flipkart. Flipkart will still have twice as many daily active users.
This could change in a big way over the next year due to Amazon Prime and Instant Video. Time will tell if users pull Amazon out of their pocket for these services.
Advantage: Flipkart
3. What about Web Traffic? Who is winning?
Flipkart: 111 million Indian visits per month (declining trend)
Amazon: 185 million Indian visits per month (gaining trend)
Amazon is dominating in search traffic and passed Flipkart in late 2015.
Flipkart made an early bet on focusing the majority of resources on their mobile app.
In fact, they made a big bet with their fashion company Myntra going completely Native Mobile. They shut down the website only to relaunch it again under 2 years later.
Amazon has an advantage here because they are an international company. They have some of the best SEO (Search Engine Optimization) experts in the world that can execute globally.
Advantage: Amazon
4. Complimentary Products to Fuel The Machine
Both Amazon and Flipkart have complimentary products to drive installs and usage.
Let's take a look at what each company has to offer:
Amazon Complimentary Offerings
Amazon is launching products to be top of mind for consumers.
Amazon Prime
Show they have delivery that competes with the speed of Flipkart.
Instant Video:
Get Indians to watch movies and shows using the Amazon brand everyday. The end result is taking the Amazon app out of your pocket every day.
Web Services:
Amazon is making a lot of money offering web companies cheap cloud infrastructure. To be even more top of mind for India they setup a regional center. This makes websites even faster in India since the physical machines are in the country.
Software Engineering & Dev Center:
Amazon is investing in Indian jobs. This gets them talent that know the local market. It will also get more web services customers when these developers move to other companies.
Flipkart Complimentary Offerings
Fashion
Flipkart has acquired the top 2 ecommerce fashion sites in India: Myntra & Jabong. Fashion is the third biggest ecommerce shopping category in India. It is expected to have double digit growth till 2021.
Logistics
Flipkart has figured out shipping products around India. They have been so successful they let other companies piggy back on their success. This logistics arm of Flipkart is called EKart.
Payments
Flipkart acquired startup PhonePe to become the checkout house for merchant payments.
We believe Flipkart is more integrated with the Indian ecommerce ecosystem at moment.
Advantage: Flipkart (if Prime & Instant Video become popular this could turn to Amazon fast)
5. Changing Investment Dollars into Rupees
Flipkart & Amazon or big spenders.
They have gotten a lot of investment dollars to wage this battle:
Amazon: $5 billion USD invested
Flipkart: $3.12 billion USD raised
There has been a shift in spending this money.
Amazon is using a lot more of their money for marketing and growth. They need to catch Flipkart and are spending that way. Amazon is already flooding the market with Ads to catch Flipkarts mobile install base.
They also have a tech advantage. They can just hook into their existing Amazon global tech platforms that are at scale.
Whereas Flipkart has to invest more in tech to build things from scratch.
Advantage: Amazon
What's the final conclusion?
2 Years or Less
Our bet is Flipkart has 2 more years of being the #1 ecommerce destination in India.
After that, Amazon will take the crown.
prediction made 8/8/2016
What do you think?
If you have an opinion on this article please share it with your comments.
Feel free to leave a comment below if you agree, disagree or have your own estimate.
Sources for this article