How to Rock an Indian Wedding...as a Guest
The Ultimate Indian Wedding Guide
Are you so lucky to be going to a big fat Indian Wedding?
Then look no further. This guide will explain everything there is to know about rocking one as a guest. Including Indian Wedding Do's and Don'ts
With all their pomp & extravagance, Indian weddings can take newcomers by surprise. Once you understand what to expect you will definitely love an Indian wedding.
It's all answered here in this handy guide:
1. What should I wear to an Indian Wedding?
With India being a country of 28 states, 9 religions and over 1600 spoken languages, there is a huge range of diverse attire to choose from. But not to worry ladies! An elegant saree is all you need to glam up with for any Indian wedding!.
Ladies
Although a saree makes you look attractive and flawless, draping it correctly is a huge task. For this, you can take help from a personal stylist or a whole range of techniques uploaded on YouTube or quite simply, just ask a typical Indian aunty to do it for you!
Quick tips:
Do NOT wear white or black as those are usually funeral colors. Be colorful.
Do NOT wear too much red as that is usually reserved for the bride
It's okay to wear a western style dress. Just make sure it covers your shoulders, no low-cut tops and no short skirts.
Might want to get more than 1 Indianwear outfit as weddings are multiple days.
You can also wear anarkalis if you want to avoid the hassle of finding matching blouses and still want an ethnic look. They are basically long tops that have a flow like feel about them paired with leggings and an odhani. Anarkalis nowadays come in various styles and colors and are quite easy to wear and carry. Just don a small bindi and a matching set of earrings and necklace and you are all ready to rock an Indian wedding.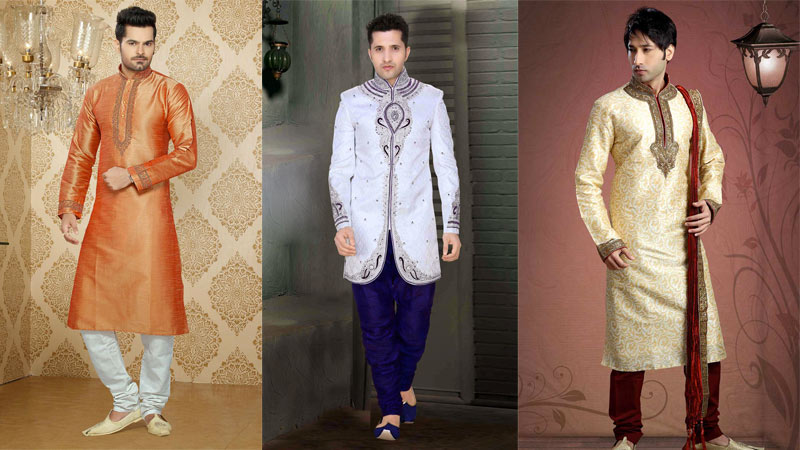 Men
For guys it is quite easy to decide. Because honestly boys, all the dressing up is left for girls in an Indian wedding! Guys could go with a dapper kurta pyjama. You might want to take help from one of your Indian friends while shopping for one. A nice, simple shirt and trousers would also do the job.
Quick tips:
Do NOT wear pure white or black. Be colorful & mix in colors.
It's okay to wear a western suit or shirt/trousers combo, but you probably want some Indianwear to fit in.
Weddings are multiple days, so you will want multiple outfits.
You can buy your outfit online and have it shipped to your hotel from Jabong or Myntra. Or, you can just buy one from a shop when you arrive.
Sources: Glam it up at an Indian Wedding / Do's & Don'ts / Hindu ceremony wardrobe
2. 17 Most Common Indian Wedding Traditions & Ceremonies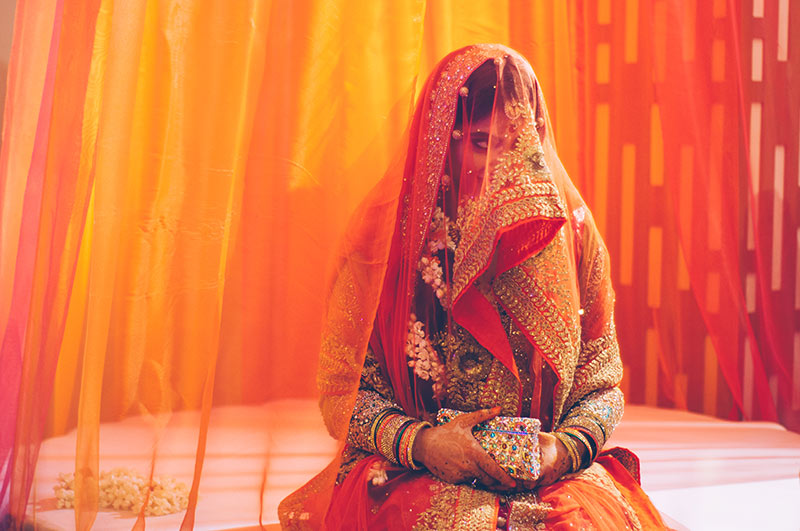 As India is a country with diverse cultures and religions, the wedding customs (especially Hindu weddings) also vary a lot throughout the country. With all the pre and post wedding rituals, an Indian wedding can last anywhere from 5 days to a week. Here we are listing steps of a typical Hindu wedding, their significance and what to expect.
1. Muhurat:
You would really want to get used to this term since nothing in an Indian ceremony starts without a 'ShubhMuhurat'. A Muhurat is an auspicious time allotted to a ritual or 'Vidhi'. The ritual should start around that time as it is considered holy.
Pre wedding ceremonies:
2. Mangni (Engagement):
Once the bride and groom and their respective families agree for the wedding, mangni is carried out. It pretty much involves exchange of rings followed by lots of banter and sweets. It is the finalization before the actual wedding. It could be clubbed before the wedding ceremony or could be performed months or days before it.
3. Mehendi:
A mehendi ceremony is usually a big deal for the bride and her friends. Mehendi ceremony involves decorating the palms and hands with designs drawn with a mixture prepared from mehendi leaves. All the ladies in the wedding have their hands adorned with mehendi. With its soothing properties, mehendi helps in relieving the stress and maintaining normal blood pressure. A dulhan's mehendi is considered special and her husband's name is hidden within the mehendi in artistic way. The color of the mehendi symbolizes the love between the couple.
4. Haldi:
A paste of haldi and other ingredients is applied to the bodies of bride and groom by their relatives. Haldi has medicinal properties and naturally enhances the body color leaving the body with a radiant glow. The ceremony ends with all the relatives playfully applying haldi to each other.
Wedding ceremonies:
5. Ganeshpujan:
Every Indian ceremony starts with a customary prayer to Lord Ganesh. Lord Ganesh is the remover of obstacles and protector against evil entities. The presence of Lord Ganesh is summoned to ensure that the event becomes successful. It is done by both the bride and groom families separately in either the mandap (wedding hall) or their respective homes.
6. Baraat:
Baraat is nothing but the entourage of dulha(groom) and his relatives. The groom usually comes to the place of wedding riding on a decorated horse along with the baraat. The baraat is full of dance, music, orchestra and all the pomp. Once the baraat reaches the door of the mandap, bride's parents welcome them by greeting them with aartiki thali. After that, they are gracefully invited inside the mandap.
7. Arrival of bride:
Among constant hymns of spiritual shlokas, the bride arrives into the wedding hall. The bride is usually carried by her maternal uncle up to the wedding hall.
8. Kanyadaan:
It is basically giving away of the bride by her parents. The parents of the bride (considered as incarnation of Goddess Lakshmi) entrust her to groom and his family and renounce all claim on her. The groom is urged to protect her and take care of her throughout his life by bride's father.
9. Mangalashtak:
A mangalashtak is holy enchantment of eight shlokas that bind the bride and groom into the knot of marriage. The bride and groom are separated with a simple white cotton cloth engraved with swastika. The couple is showered with colored rice or flowers at the end of each mangalashtak. At the end of eight mangalashtak, the cotton cloth is taken down and garlands are exchanged by bride and groom.
10. Mangalsutra & Sindoor:
The mangalsutra (holy thread) signifies the marriage of the couple. It is a necklace made of golden and black beads that the groom places around the neck of bride. The sindoor is a red colored holy powder placed on the forehead of bride by groom. Both of these acts are carried out amidst the reciting of shlokas and in front of the homkund (pot of fire).
11. SaatPhere:
Saatphere or seven revolutions around the homkund are done by the couple together. They are in fact the seven promises given by the couple to each other while starting the journey of life together:
1st Phera: Sharing household responsibilities together
2nd Phera: Become one in physical and emotional strength
3rd Phera: Share every joy and sorrow together
4th Phera: Take care of family together
5th Phera: Share the responsibility of children and protect them
6th Phera: Lead a harmonious and balanced life together
7th Phera: Swear to be a faithful companion and understand each other
12. Aashirwad (Blessings):
The couple is thus wed with vedicsanskara amongst family and friends. The wedding is usually followed by 'Sahabhojana' where all the guests and relatives along with the bride and groom are served lunch.
Post wedding ceremonies:
13. Reception:
A wedding reception is a recent addition to the traditional wedding ceremony. It is just like any other reception. Here, you can flaunt any attire of your wish. Traditional attire is not a requirement. It is held so that everyone can chill out and give their regards to the newly married couple.
14. Bidaai:
The bidaai is usually the time when the bride takes her parent's blessings and gets ready to leave for her new home. This is a very emotional and solemn moment for the bride and her parents. It is real hard for both of them to say farewell.
15. Jootachupai:
This is a fun tradition followed by the bride's cousins. Somewhere during the wedding ceremony, the bride's sisters or cousins steal the groom's shoes and hide them. Now the groom has to either guess where his shoes are hiding or pay shagun to the cousins if he wishes to avoid going barefoot! Such traditions were placed to strengthen the bond between the two families and are taken in good humor.
16. Grihapravesh:
This is when the bride enters her new home. A kalash (pot filled with rice) is placed infront of the door and the bride is supposed to touch it with her right foot and spill the grains inside the house. She should then step on the grains with the right foot and enter into the house. This practice symbolizes that Goddess Lakshimi is entering into the house as bride and would bring health and prosperity with her.
17. Satyanaarayanpooja:
A Satyanaarayanpooja is mandatory before the couple can start their new life together. This concludes the marriage ceremony and is usually done in the groom's home.
Sources: Hindu Weddings / Wedding Tips / Indian Traditions
3. How to Dance at an Indian Wedding
Take a look at some easy to learn Indian wedding Dance moves:
Pro Tip: Guys! It is NOT customary for male guests to kiss or dance with the bride during the reception.
4. What about the food? What are the eating customs?
Meals are a very important part of every Indian wedding. There are usually three courses. The first course consists of appetizers. Nowadays, mocktails, soft drinks, whiskeys etc are served as appetizers to cater to the taste of guests.
The second course consists of four to five vegetables, puris, fried rice, daal and biryanis. Salads and different side dishes are a must. The meal is strictly regional delicacies from which the bride and groom belong. However, many intercontinental dishes are seen to be included into the meals now.
The third and conclusive course consists of dessert. Indians love sweets and would not leave any opportunity to have them. The dessert is mostly ice cream but could also differ according to the season and liking of bride and groom side relatives.
It is customary to only eat with your right hand. Also, only pass food with your right hand. This is because your left hand is viewed as unclean in the culture.
Sources: Wedding Food / Food at Hindu Weddings
5. What should I give as a gift? Should I bring it with me?
As the couple is set to start their new life together, there would be nothing better to gift than something that would be useful for them in their day to day life. A gift voucher or cash in an envelope is one way and is quite common among Indians. Tip: Numbers ending in 1 are considered lucky, so you can give money in denominations like: 51, 101, 151 or 201.
Another great gift would be household appliances, dinner sets, crockery, music systems, photo frames, aromatic candle and bed covers. If money is not the issue and you really want to make your gift stand out, you can gift honeymoon package of an exotic location. However, you would have to cross check this with their families just to avoid inconvenience.
If you are bringing a card & cash you should bring it with you. If you are buying an appliance or some physical good you can bring the gift with you or just have it shipped to an address the couple gives you.
Source: Gift Giving / PostcardPretty
6. How long is an Indian wedding? What happens on each day?
Although we have explained it above, here is a quickie for you! An Indian wedding can last for anywhere between a day and a week (the average is a 3 day Indian Wedding). The typical wedding ceremonies start with an engagement, followed by mehendi, haldi, ganeshpoojan, the actual wedding ceremony, bidaai and lastly satyanarayan pooja. If each ceremony is performed separately on different days, the wedding prolongs to about a week. However, mostly two or more rituals are clubbed together making the average length of Indian weddings reduce to about four days.
Although an Indian wedding is filled with pomp and extravagance, it is ultimately all about understanding each other and having fun.
So for all the non-Indian friends, after reading this article, you now know the basic steps of an Indian wedding. So let loose and enjoy the wedding!
7. How to get to India? and then to the wedding? (if you are not from India)
Getting to India
Your only real option to getting to India is taking a plane. It can take quite a long time from some parts of the world so bring something to do on the ride.
Book international tickets to India using your country's popular flight websites. Think Priceline, Expedia or Booking.com. You could also try using MakeMyTrip or Cleartrip which is popular in India.
Airport to Hotel
Install a taxi/cab app like OLA or UBer and schedule one using the airports free wifi when you land.
Another good option is to have your friend schedule a shuttle or private driver before you arrive.
Hotel to wedding and back
Here are 3 recommendations for getting from Hotel to wedding and back:
If a wedding shuttle is provided, take it.
Use your free hotel wifi to get a cab via Uber or OLA.
Use cash to get a rickshaw, tuk tuk or scooter ride.
We hope you enjoyed this guide. Feel free to leave any comments below. Have a great time at the wedding!